When:
September 16, 2020 @ 12:30 pm – 3:30 pm
2020-09-16T12:30:00-07:00
2020-09-16T15:30:00-07:00
Where:
Sonoma Garden Park
19996 7th St. East
Sonoma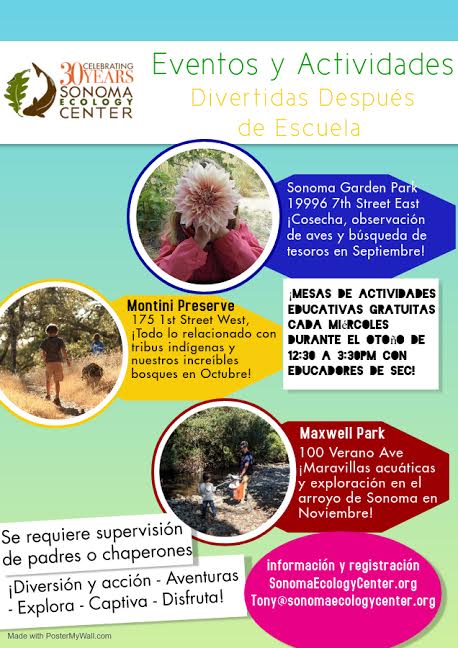 (Subject to cancellation due to air quality.)
Wednesday afternoons this fall, Sonoma Ecology Center educators will be providing what every kid needs after the laptops close: outdoor activities that are educational and fun.
Starting in September, our activity table will be set up at Sonoma Garden Park every Wednesday from 12:30 to 3:30 p.m., where kids will learn about harvesting and birdwatching and go on scavenger hunts.
Then in October, the action moves to Montini Preserve, where we'll focus on indigenous people of the region and the beautiful oak woodland.
In November, the table goes to Maxwell Park, where kids explore "water wonders" and Sonoma Creek.
Parent or chaperone supervision is required. For more information, contact Tony Passantino at tony@sonomaecologycenter.org.
Sonoma Garden Park is located at 19996 7th St. East
Montini Preserve is located at 175 1st St. West
Maxwell Park is located at 100 Verano Ave.