Nov
20
Sat
Yoga Hike

@ Sugarloaf Ridge State Park
Nov 20 @ 10:00 am – 12:30 pm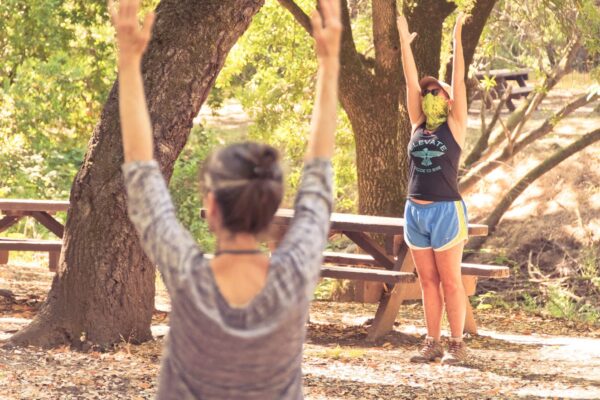 Enjoy your yoga experience in the beautiful setting of our park! Susan Topf's Yoga Hike balances a mix of easy hiking and gentle yoga postures, breath work and guided meditation, no mat necessary.
Please wear weather-appropriate clothing to feel comfortable being in a natural setting and bring water (as needed) and your mask.
Route varies on weather conditions and group interest that typically covers 2-3 miles of varied terrain.
Tickets are $30 and include parking if registered in advance online.
All levels and ages welcome. Meet at the Visitor's Center unless otherwise noted in confirmation email prior to the hike. Limited to 12 participants.
Sonoma County Resident? Free with 2021 ParkRx from participating Sonoma County Medical Provider.
 Click
here
for ParkRx info.
Nov
27
Sat
Forest Therapy

@ Sugarloaf Ridge State Park
Nov 27 @ 8:30 am – 11:30 am
The practice of Forest Therapy has been shown to improve health and well-being.
Have you heard about Shinrin-yoku or Forest bathing? Here is an opportunity to take a walk and experience the practice for yourself. Learn techniques to maximize the health benefits and stress reducing qualities of this walking practice. Shinrin-yoku originated in Japan and is gaining popularity in the United States for its documented health benefits.
This practice takes a walk in the woods to another level. A centering and calming restorative practice, it promotes balance and restored vitality through a quality of presence and heightened sensory awareness. Recent articles have been written up in Oprah, Time Magazine, and National Geographic, as well as numerous other publications. Sugarloaf Ridge State Park hosts a Forest Therapy Series as part of its ParkRx Program the 4th Saturday of each month. These walks are led by certified ANFT (Association of Nature and Forest Therapy) practitioners. Visit natureandforesttherapy.org for more info about this practice.
Tickets are $20 or free with a 2021 ParkRx from a Sonoma County Medical Provider (click here for more info).
We will hold two walks on August 28th and September 25th: 9:30am-12:30pm and 2-5pm. Tickets are only valid for the time selected.